Abundant Mane ~ For Hair Growth and Regeneration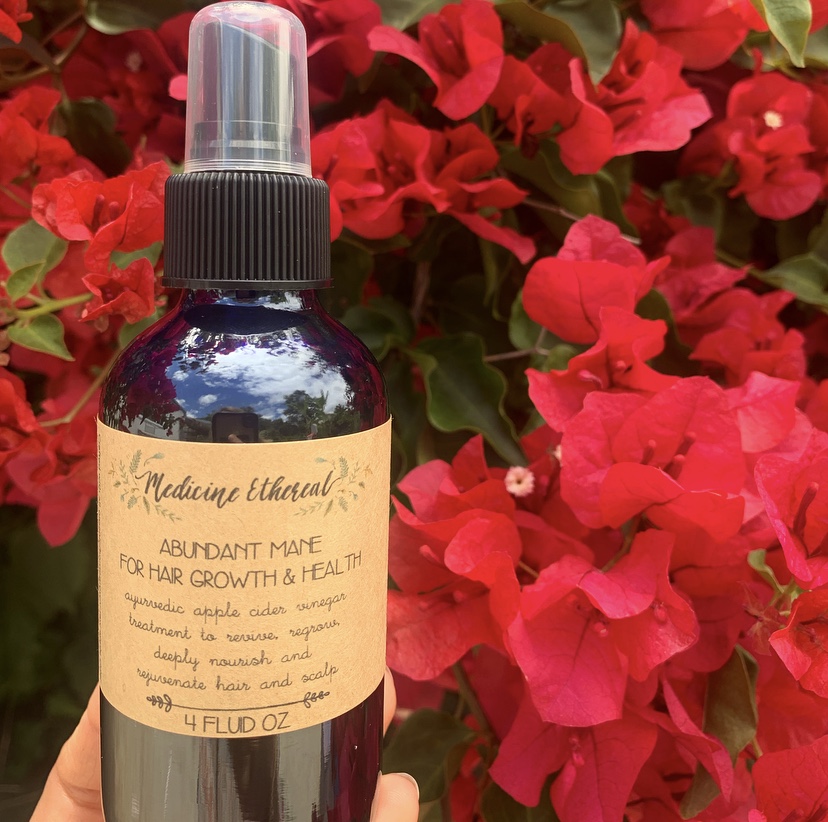 Abundant Mane ~ For Hair Growth and Regeneration
Abundant Mane
Ayurvedic Apple Cider Vinegar Spray
For Hair Growth and Regeneration
Revive. Re-grow. Rejuvenate.
This formula is deeply nourishing; a multi-vitamin to the hair and scalp. The herbs included in this spray help improve blood flow and circulation in the scalp to stimulate hair growth. They also repair damaged hair follicles, and strenthen scalp tissue to encourage new hair growth.
This hair tonic is full of nutrient dense herbs to help bring mineral magic to your hair, restoring balance and repairing damaged hair. It also aids in preventing breakage and split ends. Tulsi helps the scalp to receive the abundantly bioavailable nutrients that are contained within this formula. You hair will be filled with strength, vitality, softness and radiance from the herbs contained within.
Spirit Quartz crystal essence is added to this formula to encourage personal growth emotionally, physically, spiritually and emotionally. It helps bring all these areas of being into alignment, to create a life full of joy, creativity, and balance.
Why apple cider vinegar?
Apple cider vinegar is used as the base to this formula as it is nourishing, protective and restores a healthy balance to the hair and scalp. It reduces frizz, promotes healthy and soft hair, and moisturizes, clarifies, and conditions hair. It also removes residual build up from conventional hair products and keeps hair clean and fresh between washes. It brings vitality and life to your locks.
How to use?
Spray on damp hair and brush through. Style as usual. Use up to three times per week.
Crafted with all organic/homegrown: raw apple cider vinegar, ashwaganda, brahmi, bhringaraj, rosemary, nettle, horsetail, tulsi, spirit quartz crystal essence and lots of love.
Comes in a 4oz glass spray bottle.