Harmonious Hair ~ For Oily Hair and Scalp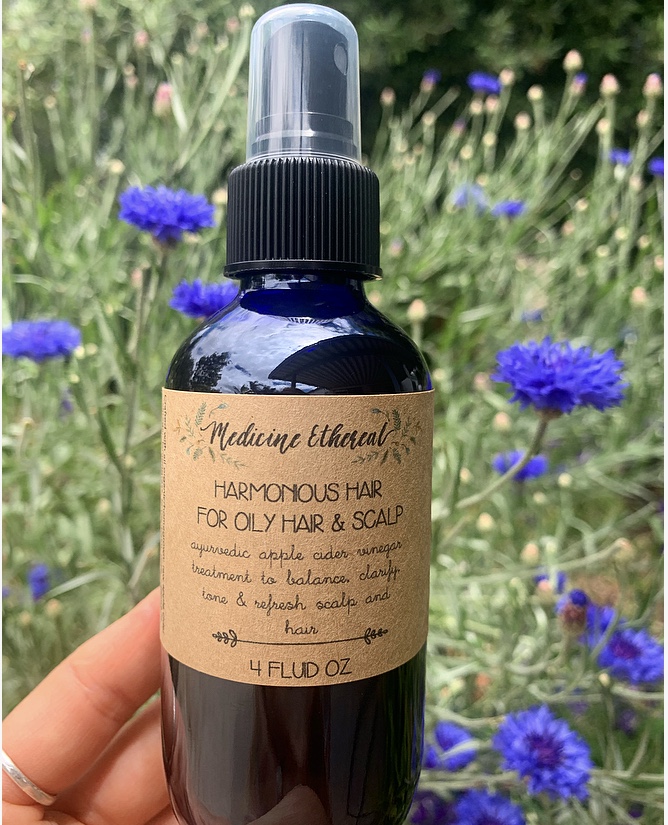 Harmonious Hair ~ For Oily Hair and Scalp
Harmonious Hair
Ayurvedic Apple Cider Vinegar Spray
For Oily Hair and Scalp
Balance. Tone. Cleanse.
This formula was created for hair that has an excess of oil. The herbs in this formula balance oil production and refresh the scalp. Use to clarify and cleanse oil from the scalp and hair, and to promote a more harmonious haven for your hair to grow. This spray is also helpful for hair protection, nourishment and growth.
Fluorite stone essence is added to this formula to help clear any stagnation or incohesive energy. It aids in bringing structure, organization, and focus to thoughts and goals and promotes emotional wellbeing and balance.
Why apple cider vinegar?
Apple cider vinegar is used as the base to this formula as it is nourishing, protective and restores a healthy balance to the hair and scalp. It reduces frizz, promotes healthy and soft hair, and moisturizes, clarifies, and conditions hair. It also removes residual build up from conventional hair products and keeps hair clean and fresh between washes. It brings vitality and life to your locks.
How to use?
Spray on damp hair and brush through. Style as usual. Use up to three times per week.
Crafted with all organic/homegrown: raw apple cider vinegar, lemongrass, lemonbalm, rose, calendula, lavender, shikakai, yarrow, fluorite crystal essence and lots of love.
Comes in a 4oz glass spray bottle.