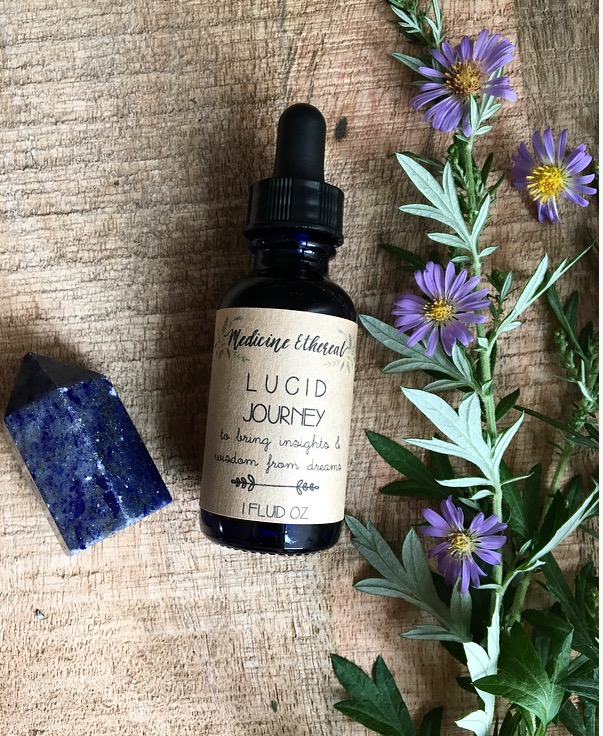 Lucid Journey
Mugwort, passionflower, lavender flower, datura flower essence and lapis lazuli stone essence make up this ethereal extract, intended to aid you to journey within your dreams and to strengthen your innate intuition.
Mugwort has long been revered as a dream ally, helping you uncover answers and signs that the universe has been trying to communicate to you. Even if not necessarily seeking an answer, mugwort assists the coming together of your conscious and subconscious mind, providing insights that may be helpful and inspiring in your waking life.
Passionflower is known to diminish anxiety especially when caused by cyclical, worried thinking. This flower relaxes the mind and eases the body into a deep and restful sleep.
Lapis Lazuli stone essence aids in making dreams easier to recall and interpret. It's essence helps to integrate the wisdom that your dreams communicate into your day to day life.
Crafted with all organically homegrown: reverse osmosis water, cane alcohol, mugwort leaf, passionflower, lavender flowers, lapis lazuli stone essence, datura flower essence, honey and love.
For an elevated dream experience, feel free to check out our mugwort dream time herbal kit.
Do not ingest mugwort tinctures or teas for more than 7 consecutive days.
Do not take while pregnant. Consult with your healthcare practitioner before use if nursing.
This product is not intended to diagnose, treat, cure or prevent any disease or condition.
I am not a licensed practitioner but have thoroughly researched my products/ingredients to give you a safe and reliable remedy. Please use this product safely and consult with a health professional when necessary or for very specific questions. If taking other medications, please talk with your doctor to ensure there are no contraindications. This product is not FDA approved.